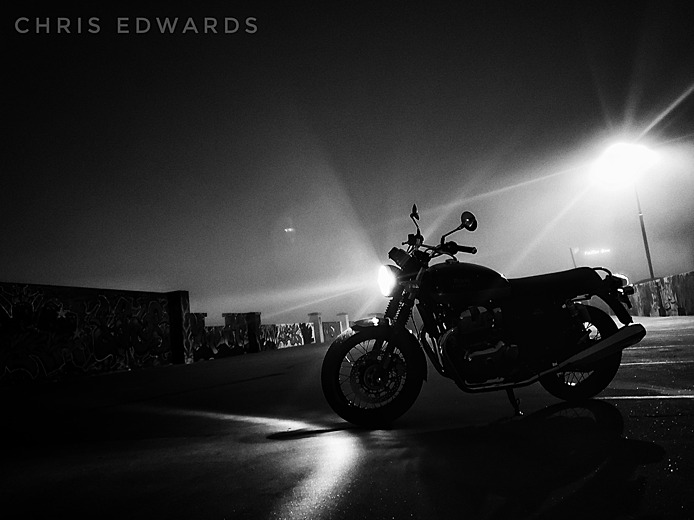 Cellphone Photography
I must confess…. For years, I was among those purist photographers that believed that shooting on a cellphone was an absolute sin. I believed phone camera was only useful for drunken photos at the bar, quick Snapchat selfies or taking pictures of your receipts.
Fast forward to now: I actively shoot, edit and post gorgeous photos on social media. As I write this blog, there is a gorgeous 28x42 print of a rat-rod hanging in the office that was, you guessed it, shot on a phone. Don't get me wrong, you can never replace a great camera and great photographer, with a cellphone. However, there is a place in the photography world for amazing cellphone photography.
To start off, lets get the technical side out of the way. The cellphone I use is a Samsung Galaxy S9. I bought this model specifically because of the camera specs and, more importantly, the "Pro" photo mode. The main camera is a 12-megapixel sensor with a 26mm, f/1.5-2.4 lens. The "Selfie" camera is an 8-megapixel sensor with a 25mm, f/1.7 lens. The main camera also records video at 4K resolution up to 60 frames per second and can record 1080p footage in 240 frames per second slow motion. Even the selfie camera can record up to 1440p footage at 30 frames per second. With the Pro Photo and Video modes, I can have full control of the focus, shutter speed, aperture, ISO and white balance.
What finally convinced me was when I went to Las Vegas with my girlfriend during the pandemic. The only reason we went was because the price of tickets and hotels were cheap enough for a couple of young 20-something's afford. However, we couldn't afford a checked bag, so we crammed everything we needed into our carry-on bags. This left no room for the DSLR or three like I wanted, and my girlfriend convinced me to just shoot on my phone. Ever since I almost exclusively shoot my travel videos on cell phones.
You can't beat the convenience when encountering an interesting or beautiful scene and just pulling out your phone and shooting away. Phones make a great journalism tool because if something is happening RIGHT NOW, whipping your phone out will always be faster than digging your camera out of your bag/car/house and completely missing the moment. I used to forgo taking pictures simply because I didn't have my DSLR on me.
I also feel that the cell phone has a place in photography in documenting everyday life. Even if I have my DSLR with me, sticking a professional camera in people's face tends to throw the scene off. I always want more camera, but I will gladly shoot on my phone over not shooting at all, and with a little bit of editing I can get great results!
Another great feature of shooting on a phone is that you are basically carrying around a computer. This gives me the ability to shoot, edit, upload, email, and post all without changing devices. I use an app called Snapseed, a free Google owned photo editor for iOS and Android. I would dare say, it almost rivals Adobe Lightroom in editing capability. Nothing beats the power of Photoshop, but it is very nice to be able to just shoot, edit and post all in one shot. I don't feel like I have to schedule an entire photoshoot just for few motorcycle glamor shots.
So yes, I do shoot on my phone, and I shoot on my DLSRs, and I shoot on my film cameras. There is a time and place for every type of camera and the cell phone serves its purpose quite well. Most importantly, the best camera you can use, is the camera you have!
-Christopher Edwards